Gonna turn this into day 8 & 9 blog too but I really want to share my ontop of the world moments too.

Friday was a good day, I stayed in my ranges and did great.

So yesterday (Saturday ) I went to the store because my 14's are falling off of me and I need to get new ones, I only had 1 pair of 12s and they're capris, since the weather is cooling off I was like I better go get some new pants. So I went to Value Village (like a goodwill) and got me a few pair of 12's, but I had a thought and I was like I wonder if I cuold try a 10 and just see how far away I am and how far away I am from being in them..

When I held them up in front of me I said out loud
"THERE IS NO WAY THESE ARE GOING TO FIT ME, THEY LOOK LIKE A KIDS SIZE!!!", I didn't think I'd get them pasted my knees but OMGOSH!! THEY FIT, slide right up and I was able to buckle them without having to hold my breath!!! WOW WOW WOW!!! 24's to 10's!!!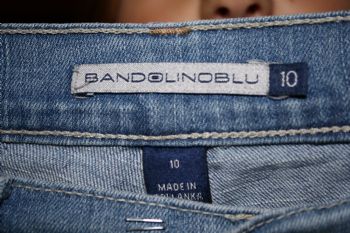 Then I went to look for a new dress for everyday casual wear and there was this GORGEOUS emerald green formal evening dress so I took it off the rack, and read the tag "RALPH LAUREN size 10", still had the Bloomingdales tag on attached marked for 8 bucks. My husband was like "what are you gonna do with it" I said I don't care, a Ralph Lauren dress for 8 bucks! I'm getting it. LOL, so this morning just for fun I tried it on (please excuse the messy hair! LOL) and felt like a princess in the dress!!!
Now I just need a hot date where I can get all fancied up and wear it out!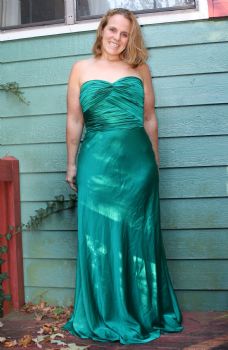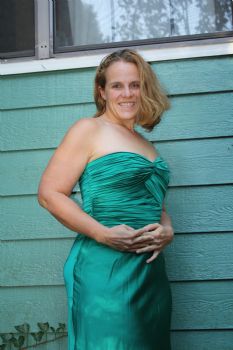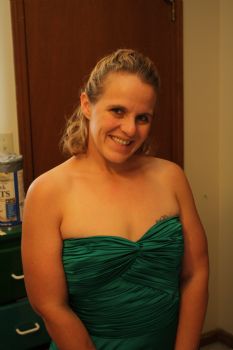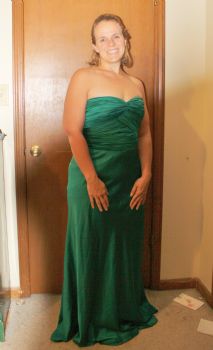 I have come so far on my journey, I am just so very very very proud of myself!!! Just wanted to share with you all